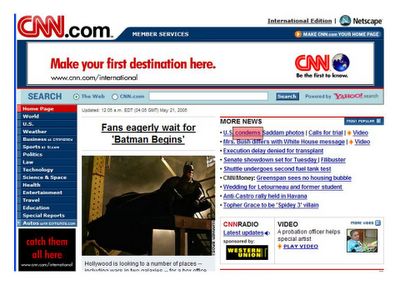 ...and it truly sucks this evening.
Clearly, the biggest news of the day is the big Batman movie premiere. The world waits breathlessly for the release of yet another overhyped Hollywood blockbuster. The planet's truly important issues must be temporarily sidelined while hordes of fans who cannot otherwise get a date rush to the theatres so they can buy overpriced tickets, stuff themselves with overpriced (and really unhealthy) popcorn and watch a movie whose every scene was preordained by focus groups who were fed similarly unhealthy fare in exchange for their valuable opinions.
And if this isn't enough, they leave a glaring spelling error in the link to their "other" top story (see pinkish box on the right.) And don't even get me started about the next story,
Mrs. Bush differs with White House message
. Sorry, but since when does Mrs. Bush's political opinion matter? What constituency elected her? Oh yes, she was
never
elected. But to CNN, what she thinks seems to be news. Journalism at its finest, folks.
Yeah, James Earl Jones is probably rethinking his "THIS...is CNN" gig right about now. And this is what half the planet turns to for news? Give me a break.
My question to you is:
Am I the only one who sees the total lack of journalistic merit in what this self-proclaimed paragon of news coverage is putting out?
Please discuss...
(I'll leave Fox News for another day...this focus on CNN has polluted my brain and this site enough for one night.)